In fact, a lot of the games out there are free. But can you get great games for nothing at all, or is the 'free' section of the App Store just a shoddy excuse to bombard you with in-app purchases?
The answer is, of course, both. The trick is finding the gems amongst the dross, and what follows are our picks of the bunch: our top free iPhone games, presented in no particular order, including both long-time classics and brilliant cutting-edge recent releases. We've even included a VR game for you… aren't you lucky?
New this week: Retro Highway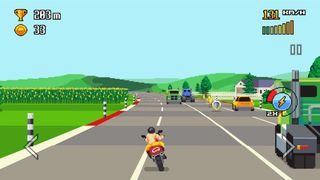 Retro Highway marries the accessibility of modern mobile titles with the high-skill challenge and aesthetics of old-school racers. Visually, it comes across like Hang On and Enduro Racer (or, if you're not old enough to recognize those titles, those weird games your dad used to play). But in gameplay terms, we're very much in endless survival territory.
As you zoom along, you collect coins and jump high into the air using ramped trucks, gradually unlocking better bikes and new places where you can ride them. It's not a very deep experience, but Retro Highway is fun to dip into when you fancy an exhilarating blast of weaving between lorries at breakneck speed, regularly leaping from ramps, and only occasionally splattering your hapless rider against an overpass.